SecMessage.com supporting an important issue
World Vision reforestation method
binds carbon dioxide and helps fields to flourish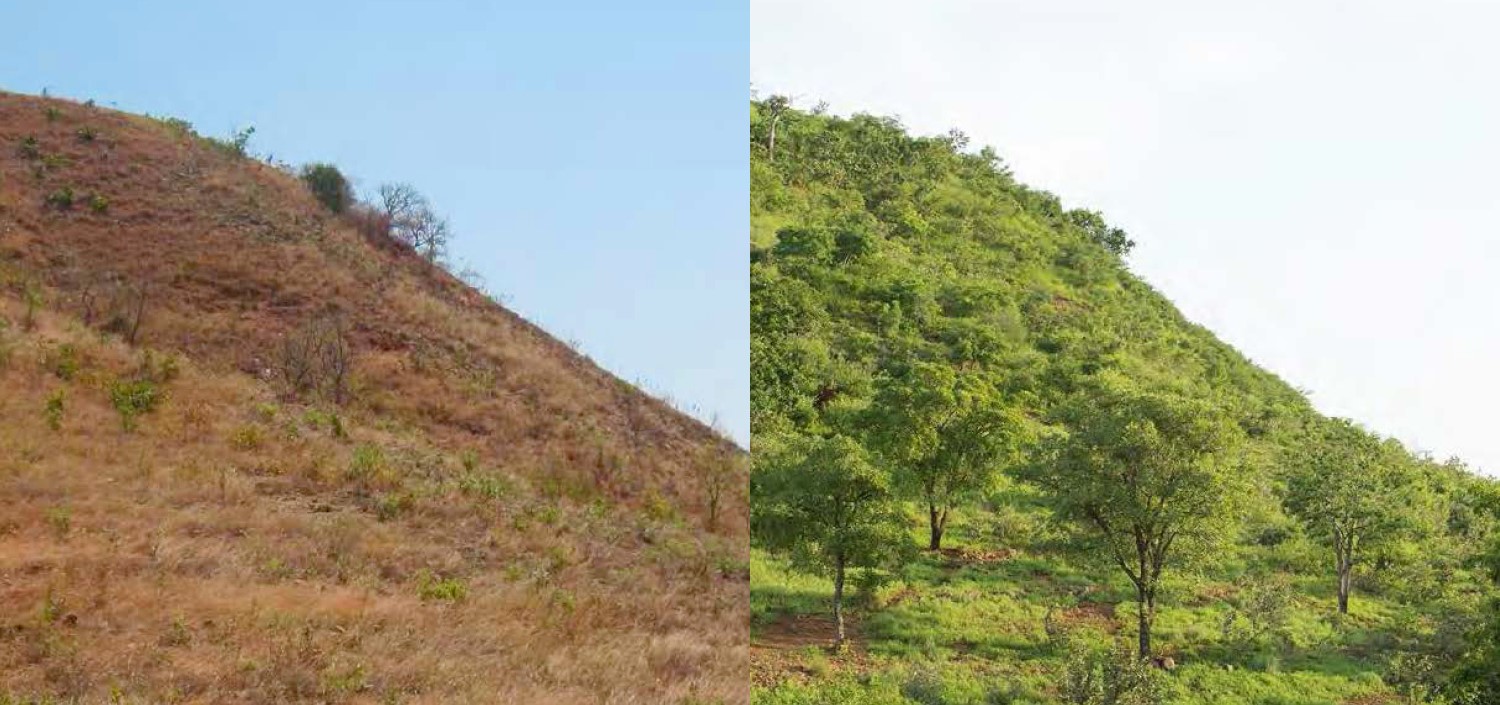 Before
After 4 years
Development cooperation veteran Agrologist Tony Rinaudo stopped his jeep in rural Niger. The car tire demanded an inspection. He looked at the bush growing nearby. A stop on the side of the road led to a simple idea that has already given birth to 200 million new trees in Niger.

A young Australian had entered the country for development cooperation in the early 1980´s. The aim was to reforest a deserted area where almost all the trees had been felled for firewood or cleared under cultivation.
Deficiency of trees added the problems already in the barren region. Soil became impoverished, pests populations increased and sandstorms intensified. Also the drought worsened at the beginning of the decade and eventually people began to starve.
– I realized that I was not looking at the bush but at the tree. Its roots were still alive and the stump grew sprouts. These stumps were everywhere. Hidden under our feet was an entire underground forest.
People had until then cut the sprouts off because the need for firewood was so great.
– The most important thing was to find trust. We had to convince at least some of the farmers to save sprouts to get the results to be presented. The beginning was not easy. The trees were felled secretly.
In the end, food shortages and famine worked in favour of the experiment. People were adviced to leave some of the stumps alone so that their family could get food aid. The results were rapid and the method spread. Thanks to it, 200 million new trees are now growing in Niger. An estimated 2.5 million Nigerians have improved food security.
– The revitalization of stumps is not a new invention as it has been used for centuries. I just happened to rediscover the method and began to actively spread the word of it. I realized that we can make a difference without huge budgets or new innovations, Rinaudo says.
In 2018, Rinaudo was awarded the prestigious "Alternative Nobel," Right Livelihood Award. In 2019, the award went to climate activist Greta Thunberg.

This is how it works:
The Farmer Managed Natural Regenaration (FMNR) method utilizes the underground root system found under the felled tree stump. The root system absorbs moisture and nutrients and pushes sprouts.

Farmers are taught to cut off weaker sprouts and leave strong ones. They grow to new trees quickly and cost-effectively.
The method is currently applied in 25 countries.
Here's how it effects:
Trees bring nutrients to the soil and even double the yields. The cows and goats in the area get enough food and produce up to five times more milk.
Fruit trees diversify children's nutrition and the family receives vital income from the sale of milk, which the family can use to pay school fees, among other things.
Children have more time for school and play when there is no need to look for firewood from far away.
Trees bind carbon dioxide from the atmosphere, preventing erosion and soil depletion; children have better opportunities for their own and their children's future.
SecMessage.com gives € 0.20 per each SecMessage purchase to support World Vision's reforestation work in Ethiopia.
"Six years ago we had nothing"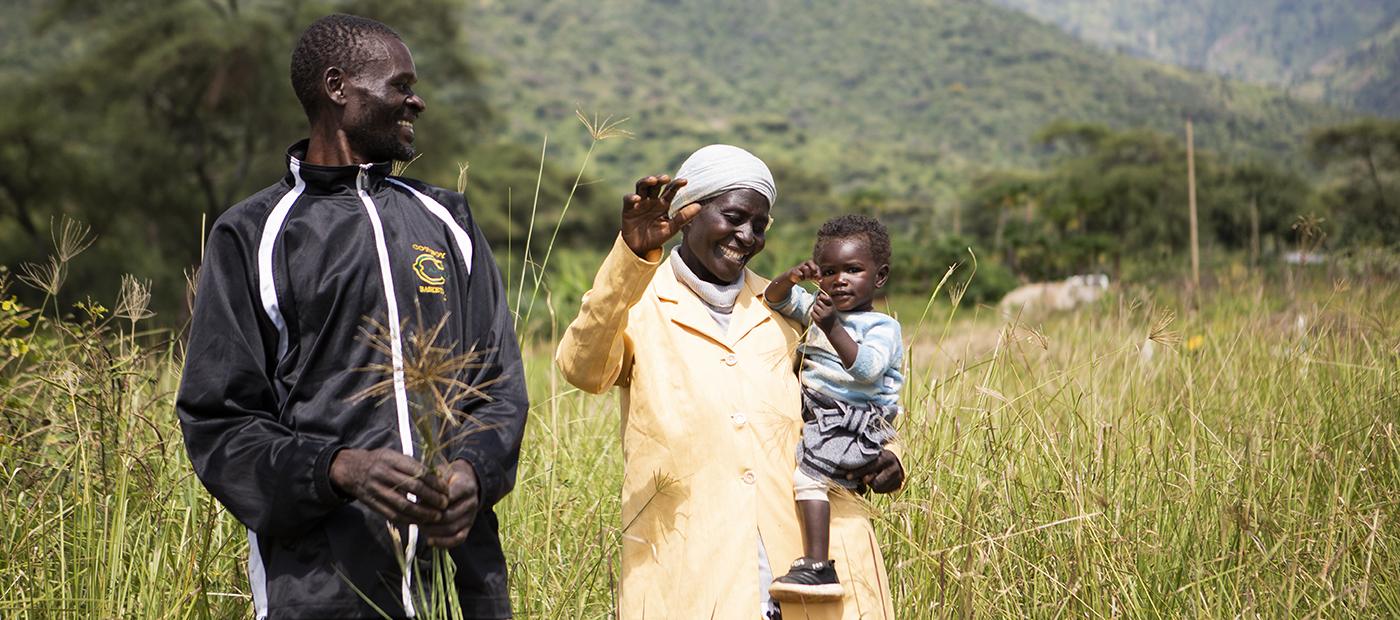 In the Kenyan field, short and long plants grow in harmony. More specifically, it hides local food plants, peanut plantations and, above all grass for animals to eat and sell on.
In the field stands a happy family: mother Joyce, father Edward and their youngest child, one-year-old Blessing Gloria. There is a total of four children in the family. Seven-year-old Favor Dorcas is at school and the two elders have already moved out of their childhood home.
- We have been able to send our children to university. Before it was just a distant dream, mom smiles.
Education changed everything
The family has lived in their farm for six years. When they moved there, only one tree grew in the field. Everything else was an unsuitable area for cultivation - destroyed by erosion and flooding. The parents thought to make firewood from that one single tree.
- I did not know that felling trees was wrong. I thought, at least under the tree, plants can't grow, Joyce recalls.
She enrolled in World Vision's two-day hands-on training, which advised her to save their single tree and grow more trees to the field to provide shade for plants.
- Six years ago, we had nothing. Now there are several acacia trees and grass and crops are flourishing. When the floods come, the land will absorb water better than before and we will not lose all our crops. It's still hard with the drought, but we're doing better with it, thanks to the trees, Joyce says.
---
World Vision
is an international development and humanitarian organization that helps children, families and communities. World Vision aims for long-lasting change by addressing the root causes of poverty and providing humanitarian assistance, e.g. for victims of natural disasters and conflicts. World Vision operates in nearly 100 countries and is both politically and religiously independent.